A gift from Carrie Steinemann Mooney Bettelini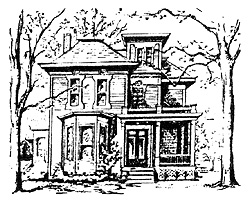 Major Charles Hipp, a former Civil War officer, had this home at 223 South Main Street, St. Marys, Ohio, constructed in 1876. Mr. Hipp was a lifelong St. Marys citizen and longtime postmaster for the community.
The house later became the residence for Daniel and Carrie Mooney.
Carrie Steinemann was a native of Minster. Trained as a classical musician, she married St. Marys attorney Daniel Mooney in 1918. Mooney later served as a state senator and then as United States Ambassador to Paraguay. The Mooneys made their home here on South Main Street after their return from Paraguay. Mr. Mooney died in 1930. In 1942, Mrs. Mooney married Fred Bettelini, who died a year later.
Carrie Steinemann Mooney Bettelini bequeathed her home to the Historical Society upon her death (1978). It was the organization's first museum, and opened in 1981.
About her gift Mrs. Bettelini said, "I am happy to deed my home in St. Marys to the Auglaize County Historical Society. I believe the society can do much toward preserving the memories of our pioneer fathers and mothers, the hardy men and women of undaunted courage who developed this area."
•  Street view of 223 South Main Street